On-Demand Webinar:
Unlimited & shareable access starting
two business days after live stream

Available on desktop, mobile & tablet devices 24/7
Take-away toolkit
Ability to download webinar video
Presenter's contact info for questions
See Registration Options
Operations staff play a crucial role in making financial institutions run effectively, efficiently, and compliantly.
This one-of-a-kind series delves into the procedures and systems that affect deposit operations personnel most.
DEPOSIT OPS SERIES TOPICS
90-minute webinars - recordings also available
Interest Reporting for Nonresident Aliens: Foreign & US Taxpayer ID Numbers
Writing New Account Procedures
Opening Accounts Online: CIP, CDD, Documentation & More
Payment Systems Bootcamp
Handling Trusts & Other Fiduciary Accounts
Deposit Operations Comprehensive Compliance, Including BSA
Purchase webinars individually or save with the series, 6 webinars for the price of 5!
SERIES DETAILS
Although less visible, operations staff enable others in the organization to focus on core tasks and maximize productivity – while they handle critical details behind the scenes. Designed specifically for deposit operations staff, this must-attend series addresses payment systems, NRA interest reporting, fiduciary accounts, opening online accounts, and writing new account procedures. The compliance module provides a comprehensive regulatory overview to help protect your institution from unnecessary loss.
NOTE: All materials are subject to copyright. Transmission, retransmission, or republishing of any webinar to other institutions or those not employed by your agency is prohibited. Print materials may be copied for eligible participants only.
Included Webinars:
There are numerous laws and regulations that affect deposit operations beginning with new account opening, including identifying accountholders under the USA PATRIOT Act, OFAC compliance, Truth in Savings, and other disclosure requirements. Once the account is opened, there are requirements regarding transactions (including holds on deposits), Bank Secrecy Act monitoring requirements, reporting and recordkeeping, rules relating to checks, electronic funds transfers, account insurance, etc.
Trusts are a horse of a different color. They have distinct parameters and more risk than regular deposit accounts. Likewise, other fiduciary accounts must be treated differently. This webinar will address those differences, risks, documentation, authorizations, and potential pitfalls.
Tick tock! It's that time of year again. Among other tax-reporting duties, you must report interest for nonresident aliens. Although a somewhat complicated issue, this webinar will break down each form into manageable, understandable pieces. After this program, you'll find that NRA interest reporting has never easier.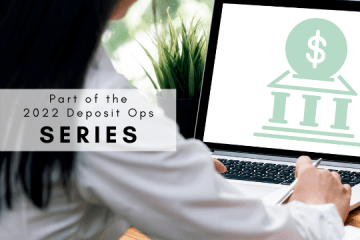 When opening accounts online, E-SIGN compliance is one piece of the puzzle, while knowing the "true identity" of the customer for BSA and CIP purposes completes the process. What additional "out-of-wallet" questions should be asked when accounts are opened online? How does electronic account opening impact BSA risk assessment? Learn about the additional controls needed to protect your financial institution and red flags for reporting suspicious activity in an online environment, including risk mitigation strategies and CIP required documentation and "reasonable belief" of the customer's true identity.
Financial institutions regularly hire new staff due to retirement, promotion, or turnover. As part of their comprehensive training, new employees must achieve a basic understanding of the four main payment systems. This session is designed to give new operations staff that baseline understanding. It will address checks, ACH, cards, and wire participants, plus rules and key considerations for all staff. After this session, attendees will be more confident in answering accountholders' transaction inquiries.
This webinar will take the core document from the deposit accounts handbook and set up a working document so you can tailor your procedures into the framework provided. The working handbook in a Word document will save you time in the process. Find out how to blend state and federal law into an efficient new account process.
© 2022 FINANCIAL EDUCATION & DEVELOPMENT, INC