2024 ACH Specialist Series
Live Webinar:
Unlimited connections for your institution
Available on desktop, mobile & tablet

Take-away toolkit

Presenter's contact info for questions
On-Demand Webinar:
Unlimited & shareable access starting two business days after live stream
Available on desktop, mobile & tablet devices 24/7
Take-away toolkit
Ability to download webinar video
Presenter's contact info for questions
See Registration Options
2024 ACH SPECIALIST SERIES TOPICS

60-90 minute webinars - available live or on-demand
Regulations Affecting Instant Payments
2024 ACH Rules Update & Initiatives
The RDC Duplicate Dilemma
ACH Warranties & Indemnities
Proper Handling of Government Reclamations & Garnishments
Electronic Payment Fraud: When Is Your Institution Liable?
Purchase webinars individually or buy the whole series to get one free!
SERIES DETAILS
ACH transactions affect a wide variety of staff. This series will educate you about the latest ACH changes, instant payments, payment fraud, duplicate transactions, the ACH system, government payments, and more. Get the details needed to ensure accuracy, limit liability, deal with government payments, and confidently handle accountholder questions.
NOTE: All materials are subject to copyright. Transmission, retransmission, or republishing of any webinar to other institutions or those not employed by your institution is prohibited. Print materials may be copied for eligible participants only.

Included Webinars: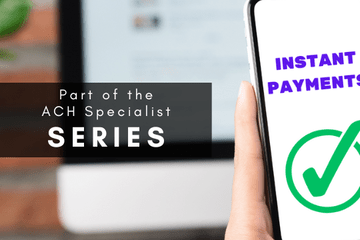 Do you know the seven rules that affect instant payments? Do you know how they control the instant payments system? Whether you originate or receive instant payments, this webinar will be beneficial. It will walk through various scenarios to determine the governing rule, law, or regulation, and how to apply it to instant payment processing challenges.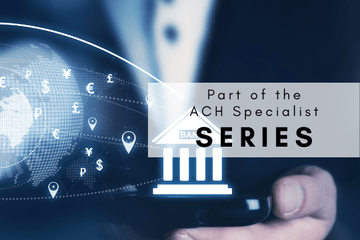 Many significant changes are set to impact ACH payment processing in 2024. Join us to learn how to prioritize your institution's plan of action and maintain compliance with the ever-changing ACH landscape. This program will look at recent Nacha initiatives and review upcoming ACH rule amendments aimed at mitigating credit-push fraud through increased awareness of schemes, strengthening ACH origination controls, and improving the recovery of funds.
Remote Deposit Capture (RDC) participation has grown over the last few years leading to a corresponding increase in duplicate checks. Join us to find out when you can return a check as a duplicate, what to do when the timeframe has passed, how to respond to a duplicate claim against your institution, and what recourse you have utilizing the RDC indemnity. Together we will identify the proper return code and adjustment type to use when handling duplicate checks, examine when it is appropriate to utilize the RDC indemnity, and how to make a duplicate check claim. We will also walk through scenarios to apply what we have learned to determine the appropriate action.
Regardless of whether you are an ODFI, RDFI, or both, your institution makes warranties and indemnities to other ACH Network participants every day. This program will address what a warranty and an indemnity is and the importance of understanding them. It will take a deep dive into ACH authorizations, Notifications of Change, and transactions where an eligible source document (i.e., check) is converted to an ACH debit. You'll also learn what to do when you are unable to resolve a dispute with another financial institution regarding an asserted breach of warranty. This session is ideal for treasury management and ACH operations staff.
The federal government operates by their own set of rules for ACH payments. Therefore, improper handling of Death Notification Entries (DNEs), government reclamations, and garnishments can expose financial institutions to potentially significant dollar losses. This session will cover the proper procedures for handling ACH government reclamations and the garnishment of accounts receiving federal ACH benefit payments. It will provide insight into how federal government payment rules differ from ACH rules and provide peace of mind that you will have all the right answers.
The tremendous increase in electronic payment fraud has resulted in staggering losses to financial institutions. Liability varies depending on the type of fraud, how it occurred, and whether it was a consumer or commercial account. The assorted legalities are mindboggling. UCC Article 4A permits financial institutions to shift liability to commercial accountholders in certain situations, while Regulation E provides much more protection to consumers. The Nacha rules make the originating depository financial institution (ODFI) ultimately liable for an unauthorized ACH, but it is difficult to get the ODFI to pay after the return deadlines. In all situations, however, the law requires financial institutions to use commercially reasonable security procedures. This webinar will explain which party is liable for the various types of ACH payment fraud and what can be done to protect your institution from liability in both commercial and consumer situations.
© 2023 FINANCIAL EDUCATION & DEVELOPMENT, INC